Wichita Pride: Road to Regionals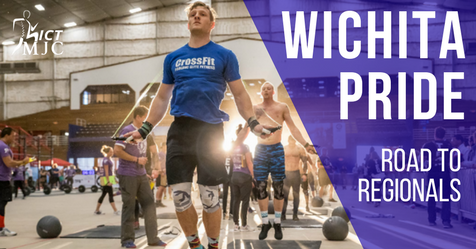 Get excited! CrossFit Regionals are here. The six events have been revealed and competitors across the world will compete on three separate weekends. Soon there will be countless of individuals across the world tuning in to watch these competitions. Rachel and I both have enjoyed past competitions, but this year is special and it should be to everyone with Wichita pride.
Wichitans continually amaze me in their support for growth of Wichita talent. It is a great time to be a part of Wichita, watching the heart of this community return. One way to cultivate this passion is by highlighting the exceptional individuals within this community, and Dillon Youngman needs to be recognized. He is a born and raised Wichitan who tirelessly strives to better the health and fitness level of our community. If you don't find him at the gym, you will most likely find him supporting local small businesses such as Reverie Coffee or Central Standard.
Many in the CrossFit community around Wichita, know or have heard of Dillon Youngman. Dillon is a coach at and owner of Middle of the Map CrossFit, located on Rock Rd. across from McConnell Air Force Base. He is a fierce CrossFit competitor who will compete in the 2017 CrossFit Central Regionals. Over the past several years, Dillon has worked endlessly to achieve this goal, which is no easy task; thousands of competitors across the North Central Region recently competed for this honor. Needless to say, he is an incredible athlete and we can luckily call him one of our own.
His goals do not stop with CrossFit: he is a successful small business owner and seeks to apply to the Physical Therapy program at WSU. If there was ever an individual, who walks-the-walk in regard to health, wellness, and fitness-based lifestyle, to apply for the WSU physical therapy program, it is Dillon. In the meantime, Dillon's focus is on improving the quality of life for all of Wichita's community through fitness.
His commitment day-in and day-out is second to none, and everyone in Wichita should be aware of and show support for exceptional individuals, within our community, who keep pushing the boundaries for a brighter tomorrow. We will be traveling to Nashville soon, along with many others, to support Dillon during the competition and to show our ICT pride. Be proud to be from Wichita and share that pride by supporting our local talent.
Check out the event on our Facebook page!