Bulging Disc Pain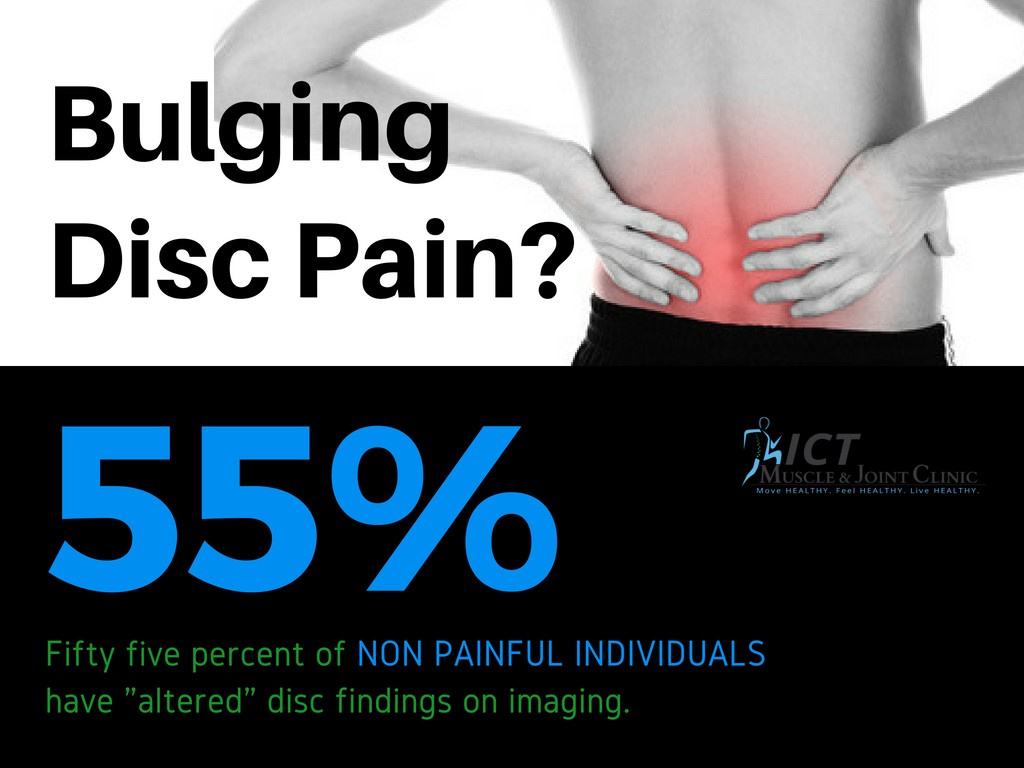 The subtitle here should read, "Enter the Gauntlet." Disc pain is more variable than any other type of "true" musculoskeletal related pain. It almost seems like there is no rhyme or reason in symptoms. Disc related pain can even be the source of pain behind other unresponsive diagnoses such as: carpal tunnel, plantar fasciitis, and IT band syndrome.
Because of the high variability in symptoms, it can feel as if you are running through the gauntlet; never knowing what you're going to experience next. Through research in pain science, there are some clear, and some not so clear, symptom guidelines you may be able use to identify true-ish disc pain vs other types of pain/symptoms.
What is a Bulging Disc?
A bulging disc is a type of stressed tissue. When we look at an MRI of a bulging disc, regardless if it is in the low back, mid back, or neck, you are looking for a "bulge" pushing backward into the spinal canal which may compress nerve roots. Compression of the nerve roots by disc material is usually what is considered "disc pain" by conventional standards. These nerve roots then carry altered signals down the course of the nerves to their end branches.
A common diagnosis that is associated with a herniated disc is, Sciatica. The sciatic nerve roots leave the lumbar spine and merge to form a trunk. The trunk then runs down each leg to its end branches in the foot. As a result, symptoms can be felt anywhere along that path. A person may experience symptoms ONLY in the foot (giving a false plantar fasciitis diagnosis) the thigh, lower back, or all these areas.
Disc Pain Symptoms
Depending on the chronicity of symptoms the brain-body connection can interpret things differently. Chronic pain due to a disc bulge can produce forms of pain which need to be addressed with additional help, other than chiropractic, physical therapy, massage therapy, or medication.
If symptoms started recently, typical nerve root symptoms associated with a bulging disc include: weakness, numbness, heaviness, and tingling (see chart below). Now here is the tricky part: nerve anatomy and understanding are not nearly as clean cut as doctors and the health profession make it out to be, due to poor understanding of pain science.
Image findings (MRI, X-ray, etc.) do not correlate to pain and may be relatively useless (Are MRIs of Disc Herniations Useful). (1) There is an intricate network of nerve conduction, between the nervous system and the rest of the body. This network can partially or completely bypass pain fibers from the associated disc bulge and is why disc herniations can be found, at the same prevalence, in painful and non-painful individuals. (2) The body is amazing and can compensate, until it cannot.
**List of Pain Symptoms with Pain Source (non-exhaustive)
| | | | |
| --- | --- | --- | --- |
| Pain Symptoms | Potential Source of Pain | Pain Symptom | Potential Source of Pain |
| Weakness | Root | Shooting | Skin |
| Numbness | Root | Shock like | Skin |
| Heaviness | Root | Crawling | Skin |
| Tingles | Root | Electrical | Skin |
Why care about specific symptoms?
By using symptoms to guide an evidence-based treatment plan, outcomes can progress the fastest. You can't argue with symptoms. You feel normal or you don't. Why waste time and money performing tests and treatment approaches that aren't focused on eliminating pain first? Once symptoms centralize to a specific area, then improved "function" can occur. Symptoms are an important factor in the collective "hole" of healthcare but symptoms are only pieces of the puzzle.
Unfortunately, not all healthcare providers see eye-to-eye on this topic. Even worse, some justify disc symptoms for long, drawn-out treatment plans. This is why you may hear "I tried xyz and it didn't work." It's not that xyz technique isn't useful for treating "back pain." It's xyz did not work because it does not treat the specific source of symptoms for this type of back pain. Symptoms matter and reducing those specific symptoms first matter. Then work to restore function through rehab.
Referrences
1. Quiroz-Moreno R, Lezama-Suarez G, Gomez-Jimenez C., Disc alteration of lumbar spine on magnetic resonance images in asymptomatic workers. Rev Med Inst Mex Seguro Soc. 2008 Mar-Apr; 46(2): 185-90.
2. Boden SD, Davis DO, Dina TS, Patronas NJ, Wiesel SW., Abnormal magnetic-resonance scans of the lumbar spine in asymptomatic subjects. A prospective investigation. J Bone Joint Surg Am. 1990 Mar; 72(3): 403-8
• Kolski M, O'Connor S., A world of Hurt: A Guide to Classifying Pain