A Reflection on Dry Needling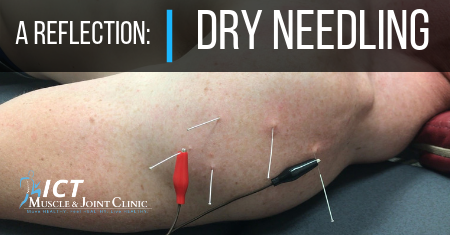 Recently I had the opportunity to attended two dry needling courses. I have been dry needling for several years now, however there were many things I took away beyond dry needling myofascial trigger points. Three key points I learned about include: different dry needling techniques, battle acupuncture, and cosmetic dry needling.
Different Dry Needling Techniques
It's odd to think there are many different styles of dry needling. This can largely be the answer to "how does dry needling work." I get asked this question often and the honest answer is it depends. It depends largely due to the style and goal of what dry needling needs to do for you.
Non-exhaustive List of Different Styles
Intra-muscular Stimulation
Neuropathic/Radiculopathy Pain

This is the approach to help fix our opioid crisis.
Organ Issues
Irritable Bowel Syndrome – IBS
Superficial Dry Needling
Spinal Segmental Sensitization
Central Model
Again, this is a non-exhaustive list. There are so many ways to incorporate dry needling to heal nerve pain, muscle pain, etc., in the body. More on this in the future.
Battle Acupuncture
What is battle acupuncture?
Battle acupuncture, more properly termed battlefield acupuncture or BFA, is all focused around the ear. In acupuncture, the ear has its own system that correlates to the entire body. By applying tiny needles into the ear, one can turn off pain pathways from the brain to those corresponding areas of the body within the ear. The original goal of battle acupuncture was for the military to provide a pain reduction option that is fast and effective and not an opioid. With the rise in opioid addictions here in the U.S., we need an alternative to pain management with these individuals. Currently the military is performing more research and training around the effectiveness of battle acupuncture. (1)
Cosmetic Dry Needling
A few of us stuck around after the regular CEU hours to watch and learn more about cosmetic needling. Cosmetic needling is an alternative to Botox for those face wrinkles. Long story short, we discussed how it is the stimulation from the needles and not the Botox that reorganizes the collagen fibers in a way to "tighten the face" back up. I find this interesting because the same holds true for cortisone injections for joint and muscle related pains. The research keeps supporting that it is most likely the stimulation of the needle in the correct location and not the injectable that is creating a positive, therapeutic response. (2) Luckily, I have a few Guinea pigs for this process before I start thinking about offering this type of service. It typically takes 8-10 visits for the wanted changes to occur over 4-5 weeks. I promise to start posting more on cosmetic dry needling in the future as I progress further into the world of dry needling.
Dry Needling's Future
Dry Needling is about to completely change things in the United States and local here to Wichita, Kansas. CPT codes have recently been approved to allow a chiropractor or physical therapist to bill dry needling to an insurance company. Currently dry needling is not a covered service anywhere in Kansas or the rest of the United States. So, hold on tight for these changes and hold on tight for how we offer dry needling and the types of dry needling we offer in 2019.
Research:
Goertz CM1, Niemtzow R, Burns SM, Fritts MJ, Crawford CC, Jonas WB., Auricular Acupuncture in the Treatment of Acute Pain Syndromes (AATAPS). Mil Med. 2006 Oct;171(10):1010-4.