Healthcare: A Broken System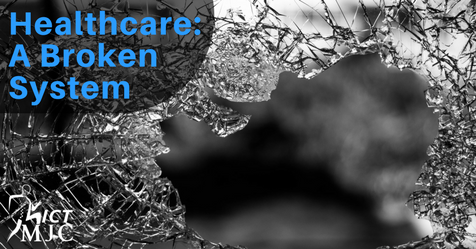 Healthcare is broken – period.
The number of healthcare providers who work cohesively together is basically zero and this infuriates me.
I want to be upfront and honest, I am writing this blog in a mildly-heated position. However, I did not start the morning like this. I woke up in a fantastic mood; made eggs and coffee, briefly enjoyed the amazing weather while driving to the office, excited to tackle this week's obstacles. It all changed with a call to a patient's PCP located here in Wichita.
A patient, who was recently referred to us, has an insurance plan that requires "pre-authorization" from the designated primary care physician (PCP). We definitely support an open communication policy amongst all healthcare providers to better a patient's health. The insurance company we are in-network with initially approved a treatment plan for only 3 visits. At the end of the third visit, the individual had made progress with the initial complaint, but also mentioned a new complaint. Following the rules, we contacted the patient's "PCP" on file listed by the insurance company.
The receptionist who answered our call was a very polite woman. We mentioned everything listed above about the progress made in 3 visits and the patient mentioning a new complaint. She took a note to speak with the PCP as soon as the PCP became available.
The receptionist called back promptly. She noted that the doctor would not speak with us about the patient's complaint, and that no doctor in their office would ever refer or extend a patient's care to a chiropractor. I did not overreact; this was not the receptionist's fault, and my rudeness would not achieve anything in the situation. I simply asked why and explained our rehab-based approach to chiropractic. The receptionist made a note again and politely mentioned she would deliver the message but to not expect different results.
Here is a patient, making results in three visits, but being denied by the approving PCP for more chiropractic visits, for the continuation of care and for adressing a new complaint. This is a classic example of how healthcare is broken: doctors across multiple degrees think merely about themselves and their personal skill sets, regardless of other professions, even if that other profession is showing results. Instead of being excited for the patient's progress, this PCP denies our existence and it infuriates me. If the system can come together, forget about the pocketbook for two seconds, and realize if the patient gets results and is happy then we all win and look better for working together. I am going to keep reaching out to this PCP and hopefully make a coffee date to further get down to the issue at hand, in a grown up manner. There is an old wives-tale saying, "you can catch more flies with honey than vinegar," and hopefully this strategy will win out.
I am not going to let this situation affect the type of chiropractic care or service we provide for anyone walking through our doors. We are going to continue being diligent and giving our patients everything we have. If we want healthcare to change, we have to be the change.