Air Compression Sleeves: Our Rambling Thoughts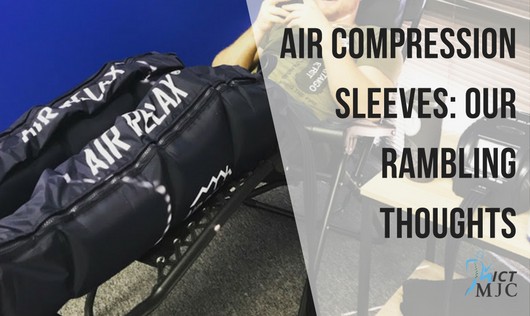 There are so many options available today when it comes to improving recovery speed, that it makes it difficult to comprehend which methods or which pieces of equipment are worth your time and (monetary) investment. Recently we purchased a lower body set of compression sleeves. After a few months of using them, here are our thoughts.
| | |
| --- | --- |
| Pros | Cons |
| Simple to use | Takes a little bit longer to use per session |
| Feel results quickly | $$$ - can cost thousands of dollars |
| Can be lazy when using | Takes up more space |
| Purely recovery | Doesn't improve mechanics |
There is not a right or a wrong answer when deciding whether to use compression sleeves for recovery. However, there is a right and a wrong time to focus on recovery. They are not meant to eliminate pain when present, but to help keep the soft tissue structures in the body supple preventing injuries. My goal for the list above is to help you identify if incorporating recovery sleeves could be beneficial to you.
The biggest drawback, we find to recovery sleeves, are the upfront costs. However, there are medical facilities, such as ourselves, that purchase these expensive pieces of equipment and offer them to you at an affordable rate, to integrate into your recovery processes. All-in-all, we love ours! We even bought a second unit that includes the upper body. Both Dr. Rachel and I utilize them almost daily and definitely notice a difference post workout. We find the best benefit in using them frequently. Using them here-and-there helps, but over the last few months, we've noticed the most improvement when we stay consistent with them.
Probably the thing I love most about the recovery sleeves, beside feeling great and refreshed after using them, is how lazy I can be – honest truth. You only have so much energy in a day to focus on what needs to happen outside of work and family life. The ability to sit down in a chair, be lazy, and skim through Facebook or Instagram while increasing the speed of recovery for my body is refreshing. Knowing I can recover AND be lazy instead of utilizing various foam rolling drills, mobility drills or stretches is definitely a nice perk to compression sleeves.
**If you have any questions on using our recovery sleeves feel free to
email us (This email address is being protected from spambots. You need JavaScript enabled to view it.) or call (316-854-3010).**