1 Million Cups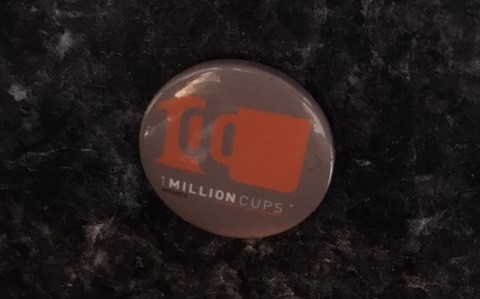 "Caffenating an Entrepreneurial Nation"*
In their own words, "1 Million Cups is a free, weekly national program designed to educate, engage, and connect entrepreneurs. Developed by the Kauffman Foundation, 1MC is based on the notion that entrepreneurs discover solutions and network over a million cups of coffee."*
The Wichita community began its 1 Million Cups journey in February 2016, just like our little clinic! It meets every Wednesday morning at 8:30 am, and includes a networking half-hour, followed by presentations from 9-10 am. Startup companies apply to present, and two are chosen for each week. The flow of the program is as follows: 6 minute presentation of the company & what it's about, suceeded by a 20-minute-period of questions or suggestions from members of the audience.
Benefits of 1MC
There are many benefits of this weekly gathering. First, new companies have a chance to get in front of new & local faces. Second, these faces usually have experience in opening their own or helping open a new business, so their input may be invaluable to beginners in the entrepreneurial world. Third, these sessions always end with the question, "What can we, as a Wichita community, do to support your startup?" This helps the people in the room have a clear idea of their role in helping achieve sucess for the presenting entrepreneurs. These meetings benefit everyone in the Wichita community because the summation of individual business growing & succeeding fuels the economy here in Kansas as a whole.
I attended a meeting back in February, and this week brought Keith to his first meeting. We both loved the experience, were able to network with great people beforehand, and listened to presentations by SYNDEO and Hopping Gnome Brewing Company. The first specializes in Human Resources Consulting and is a great business concept that one day, ICT Muscle & Joint Clinic may look to use to outsource all things human resources because let's face it, chiropractic college didn't have time to cover all the details of that arena! The second presenters were fun because they have a unique brand and are willing to work together with other local breweries to "get everyone off (drinking) Bud Light."
How to Attend
In case you are curious, anyone & everyone is invited to attend. Each meeting is put on by local volunteers and is impeccably ran. 1MC is filmed by a crew from WSU, and hosted in the WSU Old Town Building on N Mead. Free coffee & tea is provided from Reverie Coffee Roasters & Nitro Joe's (also local companies!) and is the chosen fuel of entrepreneurs in the ICT. Be sure to get there on time to grab a seat because they go fast; maybe we will see you there!
*https://www.1millioncups.com/s/account/0014W00002AqQgCQAV/wichita